A low cost planetarium for your school or home

Send to Kindle
Planetariums that can be build at school or home can range from the very simple (a pinhole projector) through to ones that use a computer running free software and require a data projector. Note that for the purpose of this page, the focus is on planetariums that use a dome to ensure accuracy with the projection of the day or night sky.
A tin can pinhole planetarium
A very simple planetarium projector can be made using inexpensive materials such as a tin can and a torch to project the stars of a single constellation onto a flat surface such as a wall. Alternatively, you can simply look into the tin can and see the constellation pattern.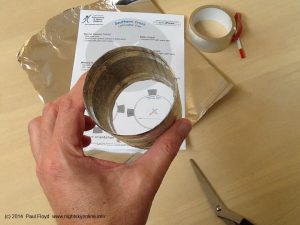 Making this pinhole planetarium will also help children in the Scouting movement earn their astronomy badge.
Software
There are two choices for free software that I am aware of that can be used to run a planetarium – Stellarium and WorldWide Telescope.
Both items of software have the spheric mirror distortion feature built in (more on that below). Stellarium's strength is in displaying the night sky while the World Wide Telescope software's strength is in showing data from astronomical researchers/observatories around the world.
Projecting all dome video
Unfortunately the next two steps involve spending some money. You will need to purchase a spherical (strictly speaking a hemisphere?) security mirror which which to project the stars or all dome video onto your planetarium dome.
If you are lucky, you will have access to a computer and a bright data projector with which to do the projecting. The software is amazingly clever and 'pre-distorts' the images so that the mirror effectively 'un-distorts' so that it shows the sky or all-dome video correctly.
The dome!
The final step is to get your hands on a planetarium dome! This is essential given that the software will assume you are projecting onto a dome. Strictly speaking, you can change this (such as onto the inside of a giant cube) but it requires some programming ability which I do not have.
You can firstly use a camping tent. I use one I cut the floor out of and put on cardboard legs to use as a practice dome.
Secondly, you can find instructions on the Internet how to build a cardboard dome. Try searching for 'making a cardboard geodesic dome' or have a look at this page WorldWide Telescope Planetarium.
Finally, you may be able to borrow a planetarium from your local museum or science center. When I last checked last year (in 2015), the Queensland Museum had one for loan.
.