Send to Kindle
(Page updated 6 October 2015) The next solar eclipse visible from Australia will be a partial one (totality occurs North of Australia) and be visible from across Northern Australia on Wednesday 9 March 2016.
A poster about this eclipse can be downloaded from my Free 'Space posters' page.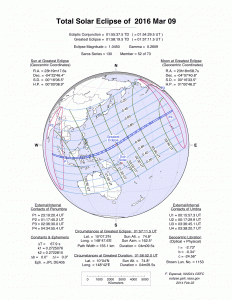 The about image is courtesy of NASA's Solar Eclipse Website.
This website is maintained by Paul Floyd. I am an amateur astronomer (and school teacher) with 25 years experience (as at 2015) in running a range of education and public astronomy outreach activities. As of January 2015, I have been providing astronomy information via the WWW for eighteen years.