Send to Kindle
One of the problems with understanding the size of the universe and everything in it, is it's size. The famous 1977 film 'Powers of Ten' by Charles and Ray Eames first tackled this first (see below).
In 2012, Cary & Michael Huang created a modern version of the classic video Powers of Ten through a Flash animation – which covers both the large and small in our universe.  Go here to access the highly recommended animation.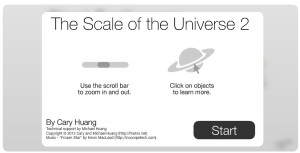 This website is maintained by Paul Floyd. I am an amateur astronomer (and school teacher) with 25 years experience (as at 2015) in running a range of education and public astronomy outreach activities. As of January 2015, I have been providing astronomy information via the WWW for eighteen years.