Send to Kindle
The Australian Curriculum for Science in the 'Earth and space sciences' content area for Year 10 asks that students understand that '…The universe contains features including galaxies, stars and solar systems (ACSSU188)'. Now it is one thing to show them pictures of galaxies, stars and other solar systems (474 solar systems at the time of writing this post) but another for them to understand that these features really exist. After all look at the night sky and it all seems very flat. Unlike clouds in our sky which are close enough  for our inbuilt binocular viewing system to work on (our eyeballs I am referring to), stars and the galaxies easily visible to the unaided eye are too far away for us to glance at and work out how far away they are.
I have created a model of the Southern Cross which can be quickly made using simple materials which shows the 3D nature of the night sky. By this I am referring to the fact that different stars are located at different distances away from our Solar System. This model is free to download and use for non-commercial use.
The below photograph shows the completed model which has been painted black to highlight the viewing hole. Looking through this hole with one eye shows how the stars line up in the familiar pattern known as the Southern Cross. Unlike the real thing (!) you can then look from above and discover that the stars are located at dramatically different distances. The distances have been scaled correctly with 1 mm equal to 1.28 light years.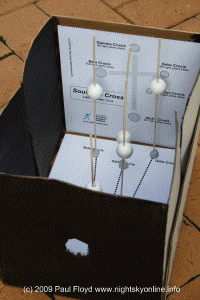 Material required
 5 small polystyrene balls
5 skewers
Cardboard box (which reams of paper come in)
Scissors
Glue stick
Blue tack
3D Southern Cross Model (Adobe Acrobat file)
For further reading, you might like to visit the
An Atlas of the Universe
 produced by Richard Powell. His website has a range of excellent images which show the 3D nature of our Universe.