Send to Kindle
You can watch live (via NASA TV) as three new crew members are launched aboard a Soyuz rocket from the Baikonur Cosmodrome in Kazakhstan, and then dock with the International Space Station.
At the time of writing, the event and launch times are as follows (note that the times are subject to change for technical reasons):
Launch: am 9.10am Friday 8 October 2010
Docking with International Space Station: 10.01 am Sunday 10 October 2010
Note that all times are listed in AEST. Add one hour if your state or territory follows Daylight Savings Time.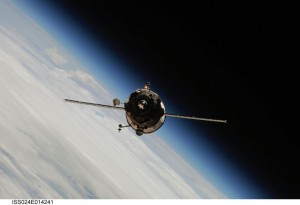 This website is maintained by Paul Floyd. I am an amateur astronomer (and school teacher) with 25 years experience (as at 2015) in running a range of education and public astronomy outreach activities. As of January 2015, I have been providing astronomy information via the WWW for eighteen years.