Send to Kindle
Space is big! Just how big is difficult to comprehend. One starting point on the journey to attempt to understand how big space is is to look at the distance between the Sun, the Earth and Moon. If you have a few spare minutes, a 25 meter measuring tape and access to a printer (to print two A4 pages) you can make your own simplified model of the Sun, the Earth and Moon.
Using this resource with your students would allow you to achieve part of one of the following elaborations from either the Year 3 or the Year 5 The Australian Curriculum, Science / Science Understanding / Earth and space science content areas.
Year 3 Elaboration 4: Modelling the relative sizes and movement of the sun, Earth and moon (ACSSU048).
Year 5 Elaboration 2: Modelling the relative sizes and movement of the sun, Earth and moon  modelling the relative size of and distance between Earth, other planets in the solar system and the sun (ACSSU078).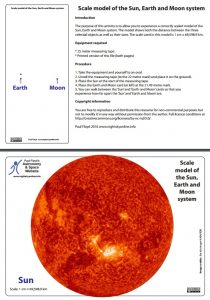 You will need to download and print out the following file (Adobe Acrobat format): Scale_model_of_the_Sun_Earth_Moon_system_V3
Reproduction information
This resource is published under a Creative Commons Attribution-NonCommercial-NoDerivs 3.0 Unported licence. You are free to reproduce and distribute this resource for non-commercial purposes but not to modify it in any way without permission from the author. Full licence conditions at http://creativecommons.org/licenses/by-nc-nd/3.0/.
This website is maintained by Paul Floyd. I am an amateur astronomer (and school teacher) with 25 years experience (as at 2015) in running a range of education and public astronomy outreach activities. As of January 2015, I have been providing astronomy information via the WWW for eighteen years.