Send to Kindle
With the ESA's Rosetta spacecraft passing the asteroid Lutetia tomorrow morning, I thought I would find out where in the Solar System it is. Well, to be honest I first tried making a finder chart in case it was easy to  see in a telescope (it isn't particularly bright). That didn't work because my astronomy program had 'issues'.
So I have turned to the Jet Propulsion Laboratory's Small Body Database Browser. The below image shows where it is in the Solar System. Interestingly enough, it is well placed in the evening sky for imaging, even if it isn't impressive visually.
Don't forget to tune in tomorrow morning at 7am AEST to see the first close up images.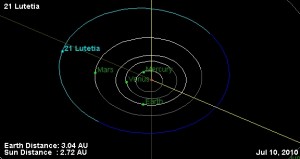 Footnote: The BBC has an interesting and well written article worth reading about tomorrow morning's encounter.